Damaged Goods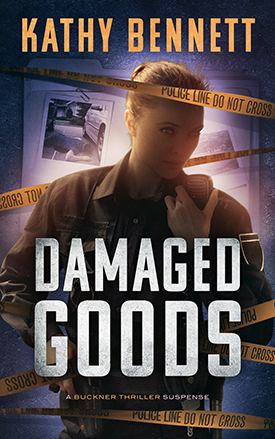 Book 2: The Buckner Thriller Suspense Series
The murder of a cop—a decade old. A stripper with a secret. A stressed cop investigating both. Will the cop's career and marriage survive?
LAPD Officer Roy Buckner juggles a new assignment in the Robbery-Homicide Division cold-case unit while stepping up as mom and dad to his toddler son. Supporting his wife's need to become a police officer is Roy's gesture of just how much he loves her.
Roy's wife, Amber, just graduated from the LAPD academy. Her probationary period is troubled, leaving her little time to be concerned about her home life or marriage—which is hanging by a thread.
When Roy and his new female partner investigate a cold-case cop killing, they trigger and uncover a trail of secrets, connecting Amber's first big arrest to a stripper's shame. As the decade-old case unravels, the mystery may end everyone's career—if not their lives.
ROY - 1
Leaning against the kitchen island, Roy Buckner watched as his wife Amber performed a chamber check before sliding her Glock into the holster of her spit-shined Sam Browne gun belt lying on the table.
"Are you nervous?"
She looked up at him. "A bit."
"I'm sure you'll do fine."
She blew out a breath. "I hope my training officer isn't a jerk."
Inwardly, he cringed. He didn't personally know Amber's TO, but he'd asked around, and Duane Sutton was known to be hard on probationary officers—especially the women. But why give her something else to worry about on her first night as a cop?
"Mama." Their son, Gage, toddled into the kitchen. He lifted his arms to his mother. "Up."
She bent and hoisted the boy onto her hip. "Who's mama's big boy?"
The eighteen-month-old grinned a drool-filled smile. "Me!"
Roy tried to ignore the fear causing his stomach to rumble. His mind cast Amber in all the dangerous situations he'd experienced on the streets of Los Angeles as a policeman, and barely survived. How would she ever get through?
As always happened when he questioned Amber's fortitude, he remembered two years ago. She was more than capable of taking care of herself.
You've got nothing to worry about. She's probably more prepared and experienced to face trouble than ninety percent of the cops on the job.
She gave her son a hug and sent him off to fetch his favorite stuffed dog, which he called Teddy. Then she turned to him. "You'll be dropping off Gage at my parent's house in the morning, right?"
"Yep, and I'll pick him up after work."
"Are you driving downtown or riding the train?"
"Driving. I don't want to stay late and not have a car."
She frowned. "You can't leave him with my parents for hours on end. You have to get off on time."
He sighed. "I told you I would do my best to get him by five. But I have job responsibilities too. What more do you want me to do?"
They stared at one another—an experience happening all too often in their marriage these days.
Amber broke the standoff and retrieved her gun belt and war bag. "Okay, I'm off to the station."
Roy stepped from behind the kitchen island and stood before her. He wrapped his arms around her and tried not to feel hurt when she tensed. "I love you. You'll be fine." He kissed the top of her head, inhaling the coconut scent emanating from her hair. "Just be careful. Gage and I would be lost without you."