A Deadly Blood Moon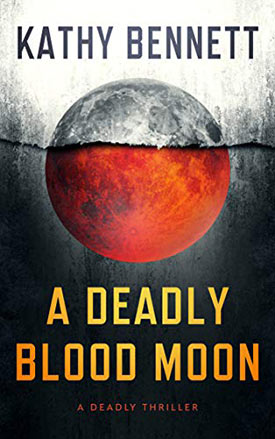 Book 6: The Deadly Thriller Series
A desperate cop. A secretive stranger. A dark connection that could get them both killed…
LAPD detective Maddie Divine tries to honor the memory of her fallen husband by fulfilling a promise she made to him and dedicates herself to care for his senile father. Unfortunately, her career ambitions tend to clash with the reality of her solemn word. Just when she needs to lock down a high-profile homicide, Maddie receives an urgent call from the old man's assisted living facility saying he's vanished without a trace.
Swept up in a frantic search and rescue, she's stunned to discover that savage criminals with a personal vendetta, targeted her fragile relative for abduction. And when a mysterious figure from his past shows up with an unbelievable story, she wonders what other dangerous secrets her in-laws kept hidden…
Can Maddie unmask a deadly conspiracy before it claims her badge, and her loved one's life?
A Deadly Blood Moon is the latest pulse-pounding novel in A Deadly Thriller police procedural series. If you like strong women, complex plots, and realistic action, then you'll love Kathy Bennett's riveting tale.
Buy A Deadly Blood Moon to foil a lethal scheme today!
Prologue
Our Lady of the Sacred Heart Catholic Church
El Paso, Texas
The man unbuttoned his suit jacket, eased onto the wooden bench in the ornate confessional, and then performed the sign of the cross. "Bless me, Father, for I have sinned. My last confession was one month ago."
"Normally, my son, I'd offer you prayers to recite after you acknowledge and atone for your misdeeds. But I know you. You are insincere. You've chosen to come into the house of our Lord to mock me and scorn our Heavenly Father. A scripture of comfort is pointless because you are never sorry for your sins. Why are you really here?"
The man peered through the privacy screen. "I'm here because you are alone in the church on Thursdays. You are the one making a mockery of God, masquerading in your black cassock, casting judgment on humble God-fearing folk. People who, at worst, tell white lies, shoplift a pack of gum, or maybe pinch their assistant's ass during the company Christmas party."
The priest sighed. "What is it you want?"
"I need your help…again."
"No."
The man shifted on the bench and placed his forehead on the barrier between them. "What? A priest who turns his back on one of his flock needing assistance? I am a child of God coming to you for aid. How can you refuse my request?"
"I told you last time, I will no longer involve myself in your affairs. You are not a child of God. You are an instrument of Satan."
The man's laugh, deep and throaty, broke the stillness in the confessional and the sanctuary beyond. "You will help me, Father, or you'll become the church, and the nation's, next big sex scandal."
"I don't know what you mean. I have done nothing wrong."
"You'll burn in hell for your transgressions against young boys in this church and all the other parishes you've served. The only reason you're not in prison right now is due to my generosity to the families of those you've molested. Now it's time for you to repay me."
"You're wrong. You don't understand—"
"No! What you don't understand is that I own you, which means you need to get in touch with our friend and have him deliver two .45s with a silencer attached. In fact, I'll need three guns this time—two with suppressors—and you will cooperate unless you want to find yourself in prison. The things you did to those little boys are called a Saturday night date there."
"What if I can't reach him, or he can't provide what you've requested?"
"Then soon you'll be behind bars where it's never safe to drop the soap in the shower." The man leaned away from the screen and adjusted his tie as he rose. After stepping from the cubicle, he turned back to the priest. "Preach in peace, Father. Preach in peace." He exited, closed the cubicle's carved door, and strode through the sanctuary toward the front doors of the cathedral.
A shuffling noise made him pause and turn.
An old geezer exited the far end of the confessional. The elderly man had occupied a separate compartment on the opposite side of the priest and had undoubtedly overheard everything said in the confined space.
Their gazes locked, and the two men assessed one another.
PART ONE
Maddie -1
Six months later…
My police radio crackled to life, the dispatcher's voice teeming with tension. "Attention all units, CSUN PD reporting an active shooter in the campus library. Standby for further."
Keys jangled from duty belts, keeping time with the street cops' footfalls as they sprinted out the station's rear doors to their black-and-white vehicles.
Snatching keys from my desk, I fell in behind patrol officers responding to the call at Cal State Northridge. As the day watch commander, I barreled to the assigned SUV, hopped in, and hit the lights and siren. My heart pounded like a Gatling gun as I burned rubber leaving the station parking lot, the morning sun causing me to squint.
Civilian cars pulled to the right side of the roadway or, more often, stopped in the traffic lane as our parade of marked vehicles tore through the streets to the emergency.
I weaved around drivers who didn't know what to do when a cop car with flashing lights and screaming siren appeared in their rearview. I monitored the updates from the LAPD dispatchers, relaying information from CSUN. Not the ideal way to communicate in critical circumstances, but we worked with what we had.
"CSUN officers report multiple victims down. Suspect is a male in a black hoodie, carrying either a handgun or a rifle."
With every new detail, my anxiety level soared. This wasn't somebody shooting off fireworks. This was the real deal.
"17A67, what is the suspect's last location?"
I recognized the voice of my former partner, Darius Cutter. He now worked patrol as a training officer.
"17A67, stand by…" the dispatcher said. "17A67, the shooter was last seen in the library at the center of the campus. Unknown if he's still there. Be advised CSUN police are currently searching the library."
"Sixty-seven, roger. Show us Code Six on the east side of the campus," Darius said.
Code Six meant officers were out of the car investigating.
With his time and experience on the job, I felt relief Darius and his partner were the first unit on scene. I focused on fighting my nerves. My mind raced with the things that needed to be done in an active shooter situation.
I skidded around a corner and pulled into a full parking lot as I listen to other units advising their arrival positions. It appeared I was the only cop covering the north section of the campus, but at least the air unit had arrived and orbited overhead.
I keyed the mic. "17L10, get the campus locked down. Three units each side. I need two additional units on the east to respond with A67 and two more units on the north perimeter with me. Is there a supervisor to set up evacuation teams?"
Devonshire Station didn't even have twelve patrol cars deployed for the day, but I knew officers from all over the Valley would hear my broadcast and respond.
Before any could, however, the dispatcher cut in. "All units responding to the CSUN shooting in progress, University PD advise the suspect was last seen running toward the Student Union."
Seconds later, the airship broadcast. "Air Eleven, we have a possible suspect on Lindley east of the library. Male, black hoodie, carrying a possible handgun in his right hand. The two officers approaching Lindley, past the red umbrellas, the suspect is approximately twenty-five yards north of you."
"Roger."
Again, I recognized Darius's voice.
"Air Eleven, stand by. The officers are making contact with the suspect now," the observer officer said from his bird's-eye view.
The radio was silent.
"Air Eleven, shots fired. Shots fired!"