A Deadly Justice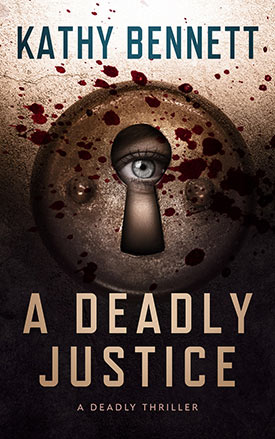 Book 3: The Deadly Thriller Series
She thought the past was put to rest…
Detective Maddie Divine is back and paired-up with fellow detective, Jade Donovan, to solve the brutal murder of a 16 year-old-girl. Why would someone kill an all-American girl? More importantly, has the serial rapist they've been searching for just become a murderer?  Could the girl's family of hot-headed brothers have something to hide? Manipulation and deception meet Maddie and Jade at every turn as they question who has the motive to kill.
But now it's back for vengeance.
While Maddie is trying to come to terms with the recent death of her husband, working with the police therapist before the guilt and anger she feels affects her job, Jade is up against a vindictive sergeant who has an ax to grind against her. Twists and turns lead Maddie and Jade down a rabbit hole, intertwining Maddie's past with present. All of these crimes are connected by a single thread, but can they figure it out before Maddie becomes the next victim? Or will her past become a living nightmare?
Maddie - 1
Holy shit!
A man wearing a black ski mask was running across six lanes of heavy traffic on Ventura Boulevard in broad daylight. Playing chicken with Los Angeles drivers, he veered between a Chevy Malibu and Dodge pickup only to leap on and across the hood of a Porsche Carrera. It was like a scene from a movie – a scene most cops live for. But this was no action flick. My instincts told me this was a felon fleeing from the scene of a crime.
Although I wasn't on duty, I jerked my sports car to the curb at a bus stop, grabbed my purse and gave chase on foot.
"Call 9-1-1," I yelled while running past startled pedestrians. "Tell them an off-duty officer is in foot pursuit of a possible robbery suspect." Although I wasn't exactly sure what crime he'd committed, the guy in the ski mask was definitely up to no good and fleeing from something.
Pulling down the zipper on the concealed holster built into my purse, I pulled out my Smith and Wesson nine-millimeter semi-auto. The holster's retention strap fell to the ground as I ran, but I wasn't going to stop for a twenty-dollar piece of leather.
If no one's called the cops already, they will once they realize I'm running through the Sherman Oaks Galleria mall carrying a gun.
"I'm a cop! Which way did he go," I demanded, looking at some young girls who'd exited the mall.
The girls looked at my gun, then pointed inside, then ran the other way. As I ran past bewildered shoppers, a few screamed when they saw my gun. I yelled, 'Police! Coming through,' hoping the citizens would get out of the way. However, people didn't know how to react. Thankfully, most shoppers stopped in their tracks and I was able to weave around them.
My heart was trying to pound its way out of my chest and I was getting winded when suddenly two LAPD bike cops standing behind cement pillars had their guns pointed at me.
"Police! Drop the gun!"
I screeched to a halt and put my hands up. "I'm LAPD Detective Maddie Divine," I called out, then slowly kneeled and lowered my firearm to the ground. Once the gun was out of my hand, I rose carefully with my hands raised above my shoulders. "I saw a big buff guy wearing a black ski mask running across Ventura Boulevard through all lanes of traffic. He was running like he'd just pulled a two-eleven or something. I left my car and gave chase. He ran into the Galleria. Did you see him? Have any robbery calls recently come out?"
The two officers looked at me as if I were nuts. A small crowd was beginning form around us.
"No. We didn't get any calls about a robbery. The only call we got was about a four-fifteen woman running around the Galleria with a gun."
"Well, I admit I was probably disturbing the peace chasing a guy while carrying a gun, but there was a guy wearing a ski mask. In fact, a few people pointed which way he'd gone."
The other cop, a taller, thinner, officer, appealed to the group of people milling around. "Anyone see a guy in a black ski mask running through the mall?"
The bystanders looked at each other nervously and a few snickered, but no one came forward to say they'd seen the suspect.
"Uh, look, Ma'am, we're going to take you down to our sub-station here at the mall where we can verify who you are and take a statement about what you saw and what you were doing."
"You can verify who I am by looking in my wallet for my I.D. card."
"Well, we're gonna do that at our substation."
"Fine," I said knowing full well these officers thought they had a wackadoodle on their hands. But one thing I knew for sure, I wasn't going to tell them to hurry up or I'd be late for my appointment with the department shrink.